Regular and repeated exposure to high-heat temperatures causes permanent damage to the hair. That is why it's so important to purchase the best flat iron for your hair type. Besides reading reviews and asking for advice from women with similar hair types, here are four tips on choosing the best flat iron products if you want to keep your hair healthy.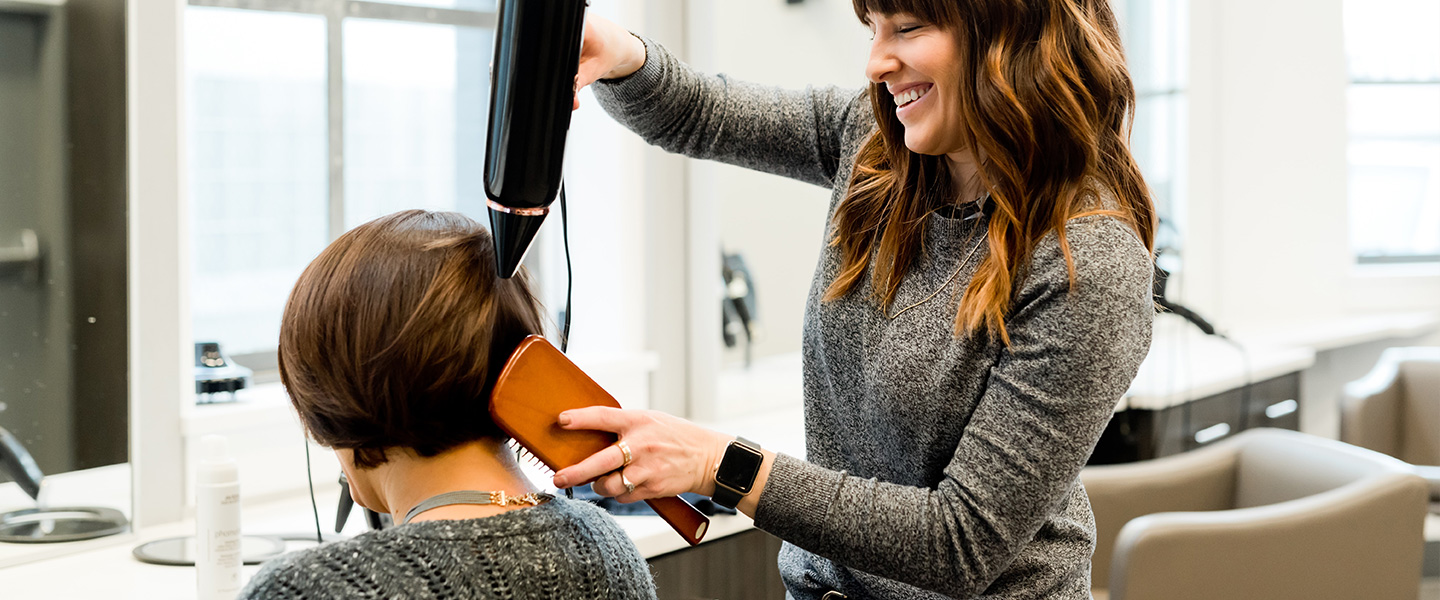 1. The Right Material for Your Hair Type
If you have fine or thin hair, try a flat ceramic iron. Ceramic hair straighteners are fantastic for smoothing and reducing frizz. Ceramic holds heat well and can achieve high temperatures and distribute heat without damaging your locks. Ceramic or tourmaline plates work as effectively as ceramic flat irons. Although tourmaline is a gemstone, it offers a similar effect to ceramic when flat iron plates are made with it.
Tourmaline straighteners are also fantastic for those with curly hair, as they are highly effective at a lower temperature. You can effectively straighten curls with a flat iron without damaging your curl pattern when using tourmaline flat irons.
For those looking to flat iron thick and coarse hair, we recommend opting for titanium flat irons. Titanium flat irons heat up faster than ceramic flat iron alternatives as they hold heat at a consistent temperature. Because titanium is a lightweight metal with an ionic charge, your hair can look smooth quickly without having to go over the same section multiple times, leading to damage. We don't advise titanium flat irons for people with fine hair as it can be too flat and damaging.
2. The Right Plates for Your Hair Type
Curly hair textures are the most prone to frizz and can be a struggle to straighten. Using a flat iron with wider plates gives curly-haired girls more grip when flat ironing. It also means you can straighten your hair in larger portions of hair in one go, without having to go over them multiple times.
If you have shorter hair or fine hair, choose flat irons with narrow plates. Narrow plates are ideal for those who want to create simple waves without using a curling iron or for those who wish to style bangs. When you're curling hair with a straightener, choose larger plates for big looser curls or small half-inch models for tighter curls.
For those looking for the best flat iron for wet hair, invest in a specialized wet to dry hair straightener. Using a regular flat iron will seriously damage your hair as they are specifically designed to be used on dry hair only. The wet to dry hair straighteners has different technology and a venting system that carefully removes the water from damp hair and converts it to steam.
3. Adjustable Temperature Setting
When it comes to purchasing the best flat iron for straightening your hair, you get what you pay for. The cheaper the flat iron you purchase, the less consistent the heat through the plates will be. Every time you close the flat iron around your hair, the temperature will fluctuate; the bigger the fluctuation, the more passes you will have to make over the hair.
Invest in flat irons that have an adjustable digital temperature for total control. Protect your hair by lowering the temperature and holding your hair on the iron for a shorter period. These adjustable flat irons allow you to use a higher setting on thick hair, and a lower setting on fine locks.
4. The Right Shape and Size
Smallest Flat Irons
Flat iron plates come in a variety of shapes and sizes. Which you choose depends on the length of your hair and your desired style. If you are someone who changes their hairstyle and length a lot, round plates are the most versatile option. Round plates are great for those looking for a flat iron for hair curling, as they won't leave a crease as they glide more smoothly.
Plates that are two-inch wide are great for thick, coarse hair or for those with very long hair. It reduces the number of passes needed to straighten thick and unruly hair. Plates that are one-inch wide suit shorter hair lengths. Smaller plates work well with short or medium length hair.
The smallest flat irons on the market generally are half a plate inch. These little travel minis are ideal if you have very short hair, straighten bangs, or smoothed edges or roots.
To get the best flat iron hair products, you need to choose the best flat iron for your individual hair type, your styling desires, and textures.